Sampling Marketing for Fitness de Nestlé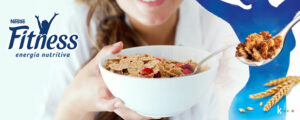 Sampling Marketing for Nestlé with over 650.000 online and offline impacts
Nestlé wanted to introduce a new food product to the market: Fitness Chocolate Granola. Will you keep reading to know the challenges we faced and how we managed to overcome them?
THE CHALLENGE
Introduce Fitness Granola through a proximity supermarket chain affiliated to Kuvut.

Access comments and opinions of those who have tasted the product.
HOW WE MANAGED WITH SAMPLING MARKETING
We resolved that the best way to reach all goals set by the brand was to deliver the product through 24 supermarkets located in Madrid and Barcelona (Kuvut's shopping sampling)
But, also, we used Kuvut's tools strategically to integrate online and offline marketing and generate a bigger impact within consumers. This is why, carrying out email marketing campaigns, actions on our social media, blog and through Kuvut's app push notifications, directed towards the brand's specific target, we managed to position the product online as well.
Thanks to all of the above, thousands of users from our DB that were at the cities the campaign run, were aware that Fitness was introducing one of their products, sampling, and more!
The result of our work was impacting over 650.000 thousand people online and offline.

Once the sampling marketing campaign ended, we carried out a brief survey with the participation of hundreds of consumers that tasted the product. Thanks to their answers, Nestlé were able to discover what their potential consumers thought of Fitness Granola.
If you wish to know more about what we can do for your brand, contact us! We are a sampling agency specialized on direct to consumer and influencer marketing. Should we help you increase your ROI?