Qualified and quality lead generation for Swiffer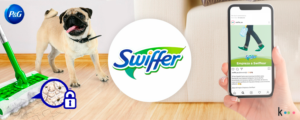 With our software we can provide qualified and segmented leads, directed to the target desired by the brand.
In this case of lead generation, we detail how we managed to increase the number of Swiffer followers and promote the UGC in social networks, causing + 180K online impacts.
THE CHALLENGE
The main objective of the brand was to increase the followers of @Swiffer_es on Instagram, an account that was starting on social networks. In addition, the leads obtained had to be of quality and active: Instagram users who were really interested in the brand.
HOW DID WE SOLVE IT WITH LEAD GENERATION?
We did 2 campaigns:
Collaboration with Fairy through actions we promoted with the hashtag: #SwifferChallenge. We achieved 152 publications in Instagram stories that generated an estimated impact of + 14K RRSS users. In addition, this campaign was shared +900 times on Facebook, Twitter and WhatsApp, leading to + 75K impacts.
Then, we launched a contest sponsored by Swiffer, in which people had to go through 2 filters in order to participate: have an Instagram account and complete the campaign registration process. +2400 consumers signed up through our platforms (app and blog) and 97% of them passed the filters. We reached +2,200 comments on the Kuvut blog where we launched the campaign and 756 shares on Twitter, WhatsApp and Facebook.
In this lead generation campaign that included two actions and lasted two weeks, we achieved +2500 followers on the brand's Instagram and a reach of + 180K impacts.
In addition to increasing leads for Swiffer, we were able to inform consumers about the launch of their new product.

If you think we can help you get more leads, contact us! We are experts in Direct to Consumer & Influencer Marketing.
We will be happy to launch our entire team to implement the best lead generation campaign to promote your brand's products.