Influencer aiShaWari for Martora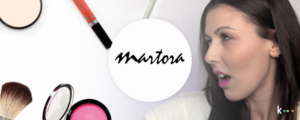 The Influencer aiShaWari got Martora +1.5 million views
From the cosmetics brand, they contacted Kuvut to help them achieve the goals they had for one of their product lines.
THE CHALLENGE
Get thousands of potential customers to meet Martora and its products.
The brand wanted to show its wide catalog of makeup products for the face, nails and skin care, as well as its brushes and many more cosmetic accessories. 
In addition, it wanted to make different online courses and video tutorials available to its users, all taught by professional makeup artists, so that consumers could get the most out of these products.
HOW DID WE SOLVE IT WITH THE INFLUENCER AISHAWARI?
Based on the objectives set by the brand, from Kuvut to Martora Make Up, we developed an influencer marketing campaign aimed at makeup lovers.
 AishaWari was the perfect influencer to collaborate on this activation, since her followers are, in general, people interested in makeup and personal care.
 Throughout the strategy, AiShaWari shared its experience with different Martora products and made two videos on YouTube, which achieved +1.5 million views.

To continue, we leave you the videos made by the influencer so that together we can recall those contents: