On the go sampling de Kuvut para Bahlsen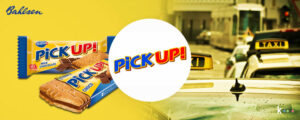 Con on the go sampling repartimos +70.000 galletas que recomendaron taxistas de todo Madrid
Conoce cómo llevamos adelante una creativa campaña de sampling que ayudó a Bahlsen a dar a conocer uno de sus productos y generar el esperado buzz marketing.
EL RETO
Dar a conocer PICK UP! Coho&Milk de Bahlsen: la marca quería posicionarse mejor frente a la competencia y hacer que más personas conozcan sus galletas, su sabor, sus características, ¡y todo lo relacionado a ellas! En definitiva, buscaban generar un boca a boca capaz de producir decenas de miles de impactos y recomendaciones online y offline.
CÓMO LO RESOLVIMOS CON ON THE GO SAMPLING
 +70.000 unidades del producto fueron entregadas junto a un flyer informativo con el que se pretendía formar a los potenciales consumidores acerca de las características principales y más importantes de PICK UP! Coho&Milk de Bahlsen.
Así es que, con la colaboración de cientos de taxistas Free Now, dimos a conocer en tiempo récord las galletas PICK UP!, generando el boca a boca que tanto la marca, como desde el equipo Kuvut, esperábamos alcanzar.
Para lograrlo, llevamos adelante una campaña de on the go sampling que se implementó de la siguiente manera:
Los taxistas se debían registrar en la campaña a través de la

app de Kuvut

, para formarse acerca del producto y luego pasar a recoger su lote (galletas + flyer) en diversos puntos de recolección distribuidos a lo largo de la ciudad.

Una vez con las galletas, tenían que

recomendarlas y darlas a probar

a sus clientes.
La recogida por parte de los taxistas y la entrega del producto a los clientes finales de estos, fue verificada a través de la app de Kuvut y del feedback obtenido por parte de los puntos de distribución y de los mismos taxistas. Todo resultó en una campaña de marketing colaborativo express con gran impacto.
Si necesitas que hagamos algo similar para tu marca, ¡cuéntanos más! Estaremos encantados de crear una estrategia a medida capaz de ofrecerte los resultados deseados.