Obtuvimos rates & reviews legítimas para Huggies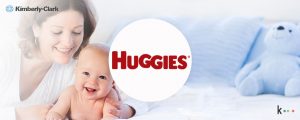 Obtuvimos rates & reviews legítimas y generamos +1.3M de conversaciones
Desde Huggies Italia, nos contactaron para que pudiéramos ayudarles a vender mejor uno de los nuevos pañales de la marca. La razón de ello, era que versiones anteriores del producto conseguían mayores compras, dado que contaban con numerosas rates & reviews que animaban a los consumidores a adquirirlos… en lugar de a sus nuevos Huggies Ultraconfort.
EL RETO
En primer lugar, el target en el que la marca quería impactar era muy específico: madres de niños y niñas en edad de 0 a 3 años que aún utilizaran pañales pero que, además, hubiesen probado una marca específica (en aquel momento la competencia directa de Huggies) y que no estuvieran conformes totalmente con ella.
Además, se esperaba poder formar a los consumidores respecto del producto para generar brand awareness y aumentar la penetración en el mercado. También, lograr reseñas positivas en Amazon, blogs, foros y a través de boca a boca en redes sociales.
CÓMO LO RESOLVIMOS Y OBTUVIMOS RATES & REVIEWS LEGÍTIMAS
En una primera instancia realizamos actividades de formación y engagement, en las que mostramos al consumidor cuáles son las características que hacen que las Ultraconfort Huggies sean únicas.  Esto fue posible a través de las redes sociales y publicaciones en las páginas web de Kuvut, artículos en el blog de la campaña, gamificación y quizz de formación. En esta etapa obtuvimos +5 mil comentarios en blog y +4 mil respuestas a los cuestionarios.
Es así que el mensaje de la marca comienza a difundirse, con los consumidores ya provistos de información sobre el producto. Gracias a estas acciones generamos un interesante boca a boca.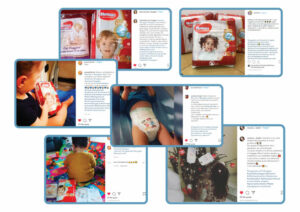 Luego, nos enfocamos en la selección del target objetivo para, con los filtros correspondientes, escoger a los embajadores de marca. Ellos, a través del "prueba y comparte", fueron los grandes generadores de WOM online y offline. Así que una vez recibieron sus Huggies Ultraconfort, compartieron el producto con sus compañeros de trabajo y su experiencia con familiares y amigos, generando +300 mil conversaciones offline. Pero, además, las opiniones de los embajadores se difunden en sus redes sociales y en la web: interactuaron, compartieron y amplificaron el mensaje de la marca. Fue el efecto boca a boca online y offline que generó +1.3 millones de impactos.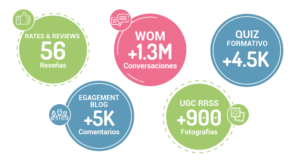 Respecto del objetivo principal, cumplimos con las expectativas de la marca: logramos decenas de reviews positivas en Amazon.it. Todas con descripciones muy detalladas de las características y beneficios del producto. Conseguimos aumentar de manera favorable la aceptación del mismo por parte de los consumidores y superamos el número de reseñas con las que contaban pañales anteriores. Gracias a esto, los compradores ganaron confianza en los Huggies Ultraconfort y, por ende, las compras aumentaron exponencialmente.
Así llevamos adelante esta completa campaña de marketing para Huggies con el objetivo principal de obtener rates and reviews.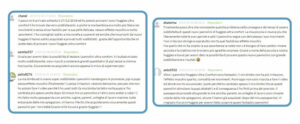 Si crees que podemos ayudar a alguno de los productos de tu marca a posicionarse por sobre otro o por encima de la competencia, ¡escríbenos! Somos expertos en direct to consumer e influencer marketing.