Market research & WOM Word of Mouth for Feliway
With Kuvut's WOM word of mouth, +3k consumers recommended Feliway and +11k participated in a market research for the brand.
We worked to achieve the objectives Feliway had in mind for their product. We identified different possible strategies and determined which were suitable to accomplish the goals set by the brand. Next, you will find all the details regarding the challenges that presented and how we solved them.
THE CHALLENGE
Since Feliway was a new product and presented new and different qualities than other products directed towards the same target, the possibility of mistrust at the time of purchase because of lack of knowledge about the product was a difficulty we encountered.
Because of this and, to solve the inconvenience, the brand contacted us to take care of selecting families and micro influencers that owned cats with behavioral problems to educate them about the product. They themselves would later be responsible for commenting to their close ones online and offline about their assessment on Feliway and influence positively on other consumers' purchase decisions.
HOW WE MANAGED WITH WOM WORD OF MOUTH AND AN MARKET RESEARCH
With a WOM campaign through Kuvut, we educated over 3000 people that matched the target established by the brand. We told them everything about the advantages Feliway offers for their pets.
Then, we delivered the product to the best ambassadors so they could try it and make their experience public through their social media and also, by talking to their close ones. With these actions, we achieved thousands of online and offline conversations and word of mouth recommendations.
The participants felt so attracted to the activities that we generated to achieve the brand's goals, that we got +15.000 comments on the blog created for Feliway's WOM and influencer marketing campaign; besides obtaining excellent UGC metrics though thousands of shared pictures on social media, which included brand recommendation.
We reached +90.000 activities performed by participants and ambassadors: educational quiz, publishing photos on social media, lead generation, gaming using specific keywords… Participation during the educational process and engagement were outstanding.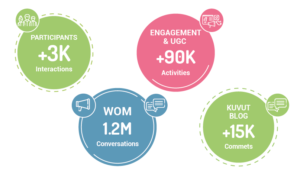 Parallel to the WOM activities, we launched a cashback campaign: alongside with product samples, we sent a flyer in which, among other things, we informed about a discount on the product's first buy for the selected ambassadors' friends and family.
And that was not all! Because by the end of the collaborative marketing campaign, we carried out a market research in which we obtained answers to +2000 surveys that looked for answers related to product's satisfaction and NPS recommendation.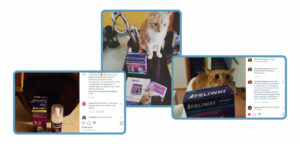 All of these would not have been possible without our consumer panel with more than 500.000 categorized registries.
With Kuvut technology it is possible to make successful influencer marketing, WOM and UGC campaigns. It is also possible to develop complete market studies that offer valuable data to brands. Now, the question is, what actions do you need us to implement for your brand?