Influencers Instagram: activación con +600 nano y micro influencers
+600 influencers Instagram consiguen +2.2 millones de impactos
Nestlé nos elige cada año para ayudarlos a alcanzar sus objetivos de marketing, a través de diferentes activaciones de Direct To Consumer Marketing. 
En esta ocasión te contamos los detalles de la campaña para Cini Minis, en la que se inscribieron +8.6K consumidores interesados en conocer más sobre el producto y probarlo. 
EL RETO
Desde Nestlé, nos comunicaron que sus objetivos principales eran:
Awareness de marca

.

Posicionarse en el top of mind

en su categoría.
Además, querían que las redes sociales se inundaran de publicaciones que mostraran el producto y la experiencia con Cini Minis, es decir, conseguir UGC generado de manera totalmente voluntaria.
En cuanto al target al que debía ir dirigida la campaña:
Hombres y Mujeres, de toda España, que tuvieran una edad comprendida entre los 16 y 55 años.

Consumidores con intereses específicos relacionados con ciertos hábitos de consumo y comportamientos

.
CÓMO LO RESOLVIMOS +600 NANO Y MICRO INFLUENCERS INSTAGRAM
Para conseguir los objetivos Nestlé, segmentamos la campaña en diversas fases para lograr objetivos concretos en cada una de ellas:

1º Selección de participantes: De los +10K consumidores interesados en participar en la campaña, seleccionamos a quienes coincidían con el target indicado por la marca y que estaban dispuestos a realizar las actividades propuestas: +4.4K participantes.
2º Fase de participación para conseguir impactos: Conseguimos un brand engagement de +147K impactos a través del emailing (se contabilizaron sólo las aperturas), las visitas al microsite de la campaña, comentarios en el blog (+3900 comentarios), acciones en las redes sociales Kuvut, sumado a la actividad en las RRSS de los propios participantes.
3º Selección de influencers Instagram: Para poder perfilar al máximo a los participantes y escoger a los +600 nano y micro influencers que probarían el producto y generarían contenido en sus redes sociales, seleccionamos los mejores perfiles y realizamos una encuesta que nos ayudó en la selección y que fue respondida por miles de consumidores.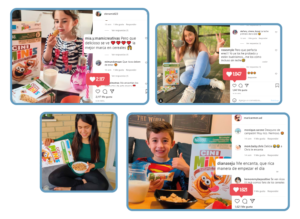 4º Fase influencers para conseguir awareness y engagement: Los influencers seleccionados recibieron el producto y compartieron un total de 924 experiencias en Instagram y acumularon +93.5K likes y +4.5K comentarios. Logramos conseguir UGC espontáneo y tal como lo había solicitado la marca. Los influencers Instagram que participaron en esta fase, tenían de promedio 4K seguidores.