Marketing multicanal para San Pellegrino
Hace +8 años que Nestlé nos elige como su agencia de marketing multicanal, especializada en Direct To Consumer.
En esta ocasión, queremos contarte cómo llevamos adelante dos activaciones en simultáneo para sus aguas San Pellegrino: influencer marketing y sampling en máquinas.
EL RETO
Con la aproximación del verano, la reapertura de los restaurantes en España y el lanzamiento de aguas con nuevos sabores, desde San Pellegrino se esperaba dar mayor difusión a sus productos y alcanzar los siguientes objetivos:
Awareness

: ganar reconocimiento por parte de los consumidores y posicionarse en el top of mind en su categoría.

UGC

: conseguir user content generated espontáneo.

Dar a probar el producto y conocer qué piensan los consumidores

sobre sus aguas.
CÓMO LO RESOLVIMOS CON UNA ACCIÓN DE MARKETING MULTICANAL
Junto a la brand manager de San Pellegrino, coincidimos en que para alcanzar los objetivos planteados, debíamos ejecutar dos acciones diferentes para generar impactos tanto en el entorno online como offline.
Así, decidimos que la mejor manera de lograrlo, era implementando casi de manera simultánea una campaña de influencers (con la que se buscaba conseguir awareness para una acción en particular de la marca que daba apoyo a los restaurantes) y otra de sampling en centros comerciales de Madrid y Barcelona.
Influencer marketing para San Pellegrino
San Pellegrino quería dar apoyo al sector gastronómico, el que se vió muy afectado por la pandemia del COVID-19. Para ello, decidió sortear 300 experiencias gastronómicas en los mejores restaurantes de Madrid, Málaga, Barcelona y otras regiones.
Desde Kuvut, y a través de nuestra base de datos de consumidores, ayudamos a difundir la acción mencionada y el mensaje de San Pellegrino, con la colaboración de nano y micro influencers que seleccionamos:
Creamos un

microsite

para comunicar la campaña a la BBDD Kuvut: recibió

+480K visitas

.

A través de

actividades y encuestas filtro

, escogimos a

130 influencers

.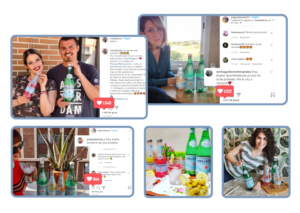 Los 130 embajadores de marca seleccionados, eran nano, micro y macro influencers: en general contaban con una media de +3.7K seguidores; 27 de los seleccionados tenían +5K seguidores; también incluimos influencers con +20K followers.
Los mencionados participantes compartieron 197 experiencias en sus redes sociales (muros y stories), con lo que consiguieron +14.9K likes y +700 comentarios 
Además, durante el desarrollo de la activación, contamos con la participación del reconocido chef Miquel Antoja, que tiene +375K seguidores en su Instagram (macroinfluencer). 
Miquel compartió 1 post en su feed y 6 stories, que consiguieron un engagement de +1700 interacciones y un REACH +81K impactos.

Sampling en máquinas para San Pellegrino
En menos de 30 días, entregamos +19.900 botellas de San Pellegrino Essenza, en las máquinas Kuvut ubicadas en: Centro Comercial Parquesur, Madrid; Centro Comercial H2O, Madrid; Centro Comercial La Maquinista, Barcelona; Centro Comercial Diagonal Mar, Barcelona.
A través de este sampling en máquinas, la marca quería dar a conocer los nuevos sabores de sus aguas saborizadas, darlas a probar a clientes potenciales y descubrir qué piensan los consumidores sobre el producto luego de probarlo. Estos fueron los resultados obtenidos con la acción en las máquinas Kuvut:

Cabe destacar que las máquinas de sampling estaban viniladas con la imagen de la marca para potenciar los impactos y penetración de sus nuevos sabores. Además, se incluyó photocall, para que los consumidores pudieran sacarse bonitas y divertidas fotografías con el producto.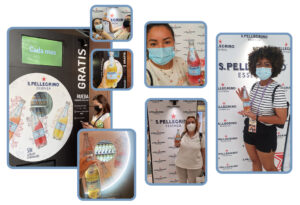 A lo largo de estos años trabajando junto a Nestlé, hemos realizado diversas activaciones que involucran diferentes productos y marcas de la multinacional. Sólo por mencionar algunas: rates & reviews para Yogolino; sampling y amplificación digital para Perrier; WOM para Naturnes; influencer marketing para Cini Minis; sampling en máquinas Kuvut para Nescafé; entre muchas otras.